General Activities
Camp Stewart offers a range of activities from archery to horseback riding. Each counselor is trained in their activity in order to help the campers develop new abilities. Stewart activities teach our campers life skills and gives them the opportunity to try new things. Click on the activity to see a short video clip.
Condor Specialty Programs
Once a camper is 13 years of age, in addition to being able to choose from all the regular activities, they are also given the opportunity to enhance their camp experience by specializing in one of four programs offered at Camp Stewart. These are the Campmaster program, Ranchman program, Outdoorsman program, and Sportsman program. These programs allow more specialized training with a counselor in regards to their chosen field.
---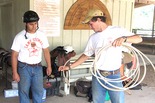 RANCHMEN
For those campers who want to specialize in all things horse-related, this is the program for them. Being a Ranchman allows a camper to learn about the different aspects of life on a ranch, including working with, taking care of and riding horses.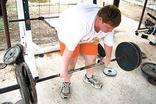 SPORTSMEN
Campers who enjoy sports all year long, even in the off-season, or just want to get better at a specific sport, might choose to be a Sportsman. This program allows a camper to focus on conditioning, weight training, and various areas of sport skill development.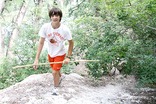 OUTDOORSMEN
For those campers who have a love for the outdoors, enjoy camping outside, hiking, wilderness survival techniques, exploration and just being in nature- the Outdoorsman program is just for them.

CAMPMASTERS
The traditional camp program, being a Campmaster offers a camper the opportunity to find the activities he really enjoys and develop those skills more specifically, as well as allows them time to focus on achieving a higher rank in the Advancement Trail.